Brochures and Factsheets
Bullying (also known as harassment) happens when a person or a group of people repeatedly hurts, threatens, or scares a peer.
Bullying awareness and prevention activities have been traditionally aimed at younger generations, even though the behaviours occur across the life course.
For Pink Shirt Day 2020, A&O: Support Services for Older Adults and the Canadian Network for the Prevention of Elder Abuse launched an anti-bullying campaign on social media to help raise awareness of bullying of older adults: #PinkShirtDayForAll. This factsheet was developed as part of the campaign. It summarizes:
the definition of bullying;
its causes;
its various impacts;
strategies for prevention and
available services in Manitoba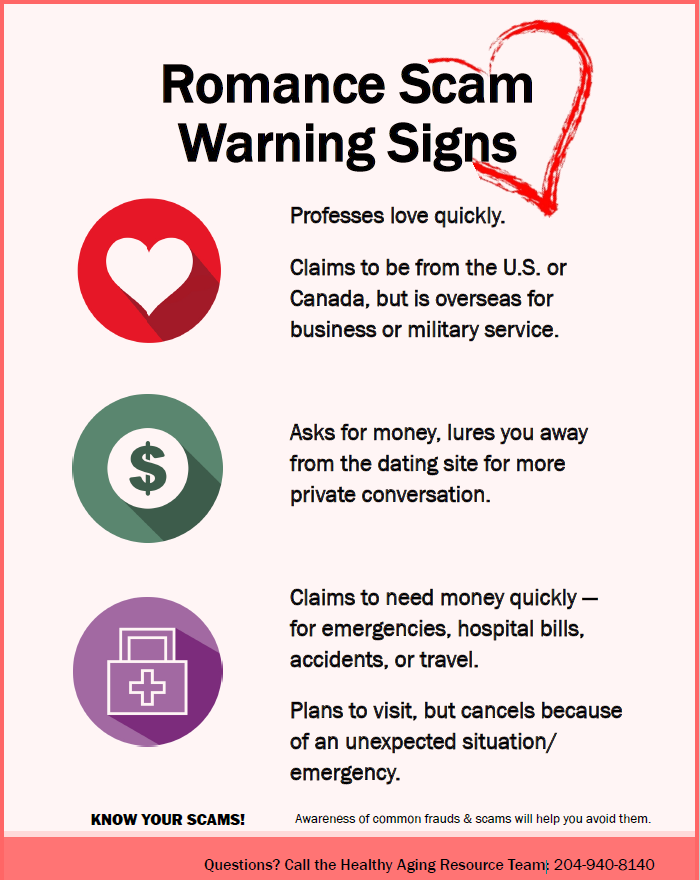 Healthy Aging Resource Teams (HART) work in the community to promote health, increase awareness about injury and illness prevention, provide primary care and manage chronic diseases for adults age 55+.The teams are made up of two health care professionals such as a nurse, occupational therapist, or dietitian. They provide health services and community support for those 55+ living in the River East/Transcona, St. James/ Assiniboia/Assinibione South and Downtown/Point Douglas community areas.
These posters identify prevention tips and red flags for the following types of scams:
Romance scams
Service Canada scams
Emergency scams
Phishing and smishing
This document is part of a toolkit developed by the Saskatoon Council on Aging during their project Building Respectful, Inclusive Communities (BRIC). BRIC led to the creation of a guide on senior-to-senior bullying and of a Train-the-trainer program through which older adult volunteers hold presentations for other older adults living in congregate housing. The project also offers ongoing support to the older adults trained to give presentations.
To learn more about Building Respectful, Inclusive Communities click here or visit SCOA at www.scoa.ca
Source: Saskatoon Council on Aging

This document is part of a series of factsheets entitled Word to the Wise, part of the Aging Without Violence Project.
Goals of the AWV project include:
Showcasing existing responses, programs and research in the area of older women who've experienced violence
Providing opportunities to connect across the VAW, health, residential care, housing sectors
Identifying gaps in service delivery, resources, systems, and research to inform specific service provider training

Overall, the project will promote a holistic approach and an integrated response in the development of service provider training to address violence against older women in Ontario, in addition to the following principles:
Inclusion
Choice and & Self Determination
Diversity
Safety and Security


Source: Ontario Association of Interval and Transition Houses (OAITH)