Brochures and Factsheets
In 2022, Sage Seniors Association and CNPEA co-developed an infographic about shelters and emergency accommodations for older adults. This document offers an overview of existing services, where they are located and how they can be reached. It also highlights a striking gap in availability. There are currently only 13 sheltering services that are specifically for older adults in Canada. They are spread out across five provinces and provide varying levels of accessibility depending of factors such as disability, pet ownership, minimum age, etc. As the Canadian population ages and rates of family violence and gender-based violence continue to rise, increasing the number of emergency shelters, transition houses, and other emergency accommodations for older people is becoming a pressing issue.
Click on the thumbnail to view and download the infographic.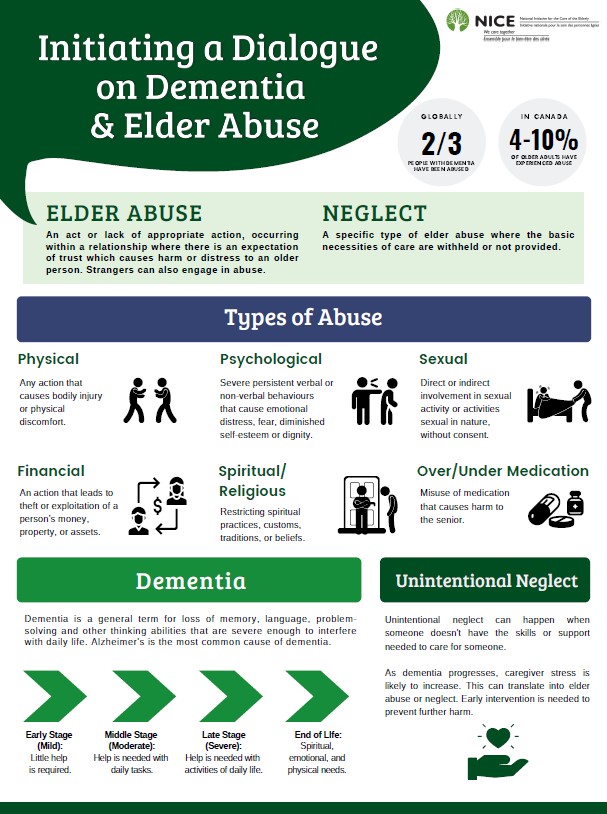 CNPEA collaborated with the National Initiative for the Care of the Elderly (NICE) and Elder Abuse Prevention Ontario (EAPO) to develop a virtual workshop and an infographic on Initiating a Dialogue on Dementia & Elder Abuse. The Alzheimer Society of Ontario and Alzheimer Society of B.C. provided crucial input along the way. Click on the image to access the infographic.


A few facts about elder abuse and dementia:
NICE's National Prevalence Study of the Mistreatment of Older Adults in Canada revealed that older adults who experience a situation of abuse tend to turn to their peers and friends before anyone else to talk about their abuse.
Among older adults living with dementia, increased cognitive and physical impairments highten the risk of experiencing abuse and neglect.
According to the World Health Organization (2016), globally, approximately 2 out of 3 people living with dementia have experienced abused.


About NICE's project
The overarching goal of the project is to educate older adults, particularly those living with dementia, as well as their caregivers, supporters and friends about elder abuse and neglect.
NICE aims to help build a strong, informed system of support and prevention around older adults
A peer-based approach was chosen to bring a unique perspective to older adults and community members.
The workshops were delivered by trained older adults with the support of the National Initiative for the Care of the Elderly (NICE).


Objectives:
Awareness: Foster a space to raise awareness about elder abuse and neglect among people who live with dementia.
Knowledge: Provide the most up to date information and resources.
Research: Gatther data on the effectiveness of the workshops.
Empowerment: Support older adults and people impacted by elder abuse and neglect to speak up and intervene.
Bullying (also known as harassment) happens when a person or a group of people repeatedly hurts, threatens, or scares a peer. Bullying awareness and prevention activities have been traditionally aimed at younger generations, even though the behaviours occur across the life course and can affect older adults where they live and socialize.

This factsheet summarizes
the definition of bullying
causes
impacts on older adults
strategies for prevention and
available services in Ontario
In 2020 A&O: Support Services for Older Adults (Manitoba) and the Canadian Network for the Prevention of Elder Abuse developed a factsheet as part of the anti-bullying social media campaign #PinkShirtDayForAll to help raise awareness of bullying of older adults. In 2022 we created an Ontario-specific version which features supports available across the province of Ontario.
STYLE GUIDELINES FOR AVOIDING AGEIST LANGUAGE
A short, easy guide to help keep ageism out of your writing. These guidelines for age-inclusive communications address:
What is ageism and why should we care?
Terminology to avoid and preferable terms
Ageist imagery vs age-positive images
Avoiding Ageist Storylines

Source: Changing the Narrative
No one is immune to the psychological toll of COVID-19-related restrictions. For older adults, however, the heightened fear of contracting the virus, a sudden decrease in connectivity, or the loss of outside support can make their situation more difficult.

To help self-isolating seniors who are at home during the pandemic, the Mental Health Commission of Canada (MHCC) asked Dr. Keri-Leigh Cassidy, professor of psychiatry at Dalhousie University and founder of the Fountain of Health optimal aging initiative, to share some practical advice on how to deal with the challenges of COVID-19.