Practice Tools
The Canadian Anti-Fraud Centre (CAFC) has compiled a toolkit specifically designed for senior Canadians (60+) to raise public awareness and prevent victimization. We encourage all of our partners to use the resources in this toolkit on their website, in print and on their social media platforms. It contains information about the most common scams and strategies to keep safe.

Source: Canadian Anti Fraud Centre
This project, in partnership with HelpAge Canada, explored best practices for building digital literacy among older adults. HelpAge Canada is a national charity focused exclusively on supporting older persons in Canada and around the world. As part of their work, HelpAge Canada developed Dig-IT, a national digital literacy program for low-income older adults. The program partners with community organizations providing devices, data, training,
and IT support. The goal of this community engagement initiative was to understand the barriers and enablers to building digital literacy among older adults from multiple perspectives. Qualitative interviews were conducted with experts in the field, organizations providing digital literacy training and education to older adults, and volunteers and participants in the Dig-IT program.


Source: Help Age Canada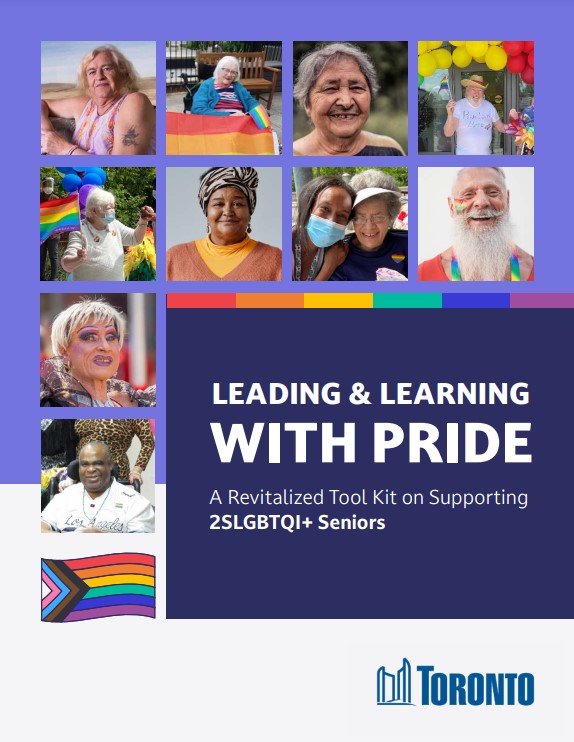 The City of Toronto's Seniors Services and Long-Term Care division (SSLTC) has released Leading & Learning WITH PRIDE: A Revitalized Tool Kit on Supporting 2SLGBTQI+ Seniors. "This revitalized Tool Kit strives to:
Advance respectful, inclusive and affirming care for 2SLGBTQI+ seniors in Toronto by

Building individual knowledge and skills among SSLTC staff and other service providers in the delivery of support to 2SLGBTQI+ seniors
Building organizational capacity among SSLTC and other seniors support organizations in the creation of inclusive environments for 2SLGBTQI+ seniors

Reduce stigma, discrimination, and other barriers in LTC, healthcare, retirement, homecare, and community-based services for 2SLGBTQI+ seniors in Toronto
Meaningfully improve the lives of 2SLGBTQI+ seniors in Toronto by treating them with empathy, compassion, and dignity


It is a resource for any and all service providers and care partners working to support 2SLGBTQI+ seniors (e.g., long-term care homes, retirement homes, hospitals, social service settings, homecare agencies, other community-based organizations). Content might also be relevant to those providing support and allyship to 2SLGBTQI+ seniors, such as family, friends, community members, caregivers, and substitute decision makers.


Source: City of Toronto's Seniors Services and Long-Term Care (SSLTC)
"This resource features promising practices to help move long-term care homes towards becoming safe, welcoming and inclusive spaces for the LGBTQI2S+ community.
Estimates point to roughly 10% of the general population being LGBTQI2S+, so we know that this community exists in care homes. Throughout their lives, many LGBTQI2S+ older adults in Canada have faced systemic discrimination and oppression based on their sexual and gender identities. This has been particularly prevalent within the health care system, which has resulted in a breakdown of trust in mainstream health care providers (Qmunity, n.d.).
This package was developed as a supplement to the presentation delivered at the AdvantAge Ontario Convention on "A Home for All: Making Long-Term Care Welcoming for LGBTQI2S+ People" in May 2019. This work stems from the Ontario CLRI's Supporting Diversity and Inclusion Advisory Group."

Source: Ontario Centres for Learning, Research & Innovation in Long-Term Care
"This Toolkit is intended to assist residences and organizations working with older adults to establish strategies for tackling bullying specifically between older people. Though existing best practices targeting bullying behaviours amongst other populations help to inform this Toolkit, the focus is on older adults, and as such, special consideration is given to this age group by utilizing the results from the SSHRC funded Seniors' Bullying in Ontario Project.
Though this Toolkit is intended for senior leadership and staff from seniors' residences and organizations, the more people engaged with this Toolkit the better. Involving clients early on encourages ownership of an anti-bullying initiative. That said, an individual or group will need to co-ordinate this initiative. Further, the Toolkit itself, contains modules with instructions for a facilitator to use in order to run the specific activities. "