Practice Tools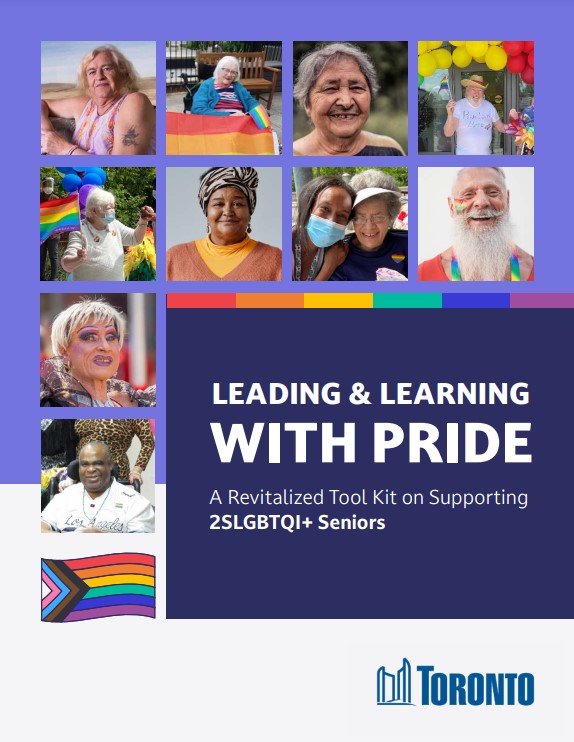 The City of Toronto's Seniors Services and Long-Term Care division (SSLTC) has released Leading & Learning WITH PRIDE: A Revitalized Tool Kit on Supporting 2SLGBTQI+ Seniors. "This revitalized Tool Kit strives to:
Advance respectful, inclusive and affirming care for 2SLGBTQI+ seniors in Toronto by

Building individual knowledge and skills among SSLTC staff and other service providers in the delivery of support to 2SLGBTQI+ seniors
Building organizational capacity among SSLTC and other seniors support organizations in the creation of inclusive environments for 2SLGBTQI+ seniors

Reduce stigma, discrimination, and other barriers in LTC, healthcare, retirement, homecare, and community-based services for 2SLGBTQI+ seniors in Toronto
Meaningfully improve the lives of 2SLGBTQI+ seniors in Toronto by treating them with empathy, compassion, and dignity


It is a resource for any and all service providers and care partners working to support 2SLGBTQI+ seniors (e.g., long-term care homes, retirement homes, hospitals, social service settings, homecare agencies, other community-based organizations). Content might also be relevant to those providing support and allyship to 2SLGBTQI+ seniors, such as family, friends, community members, caregivers, and substitute decision makers.


Source: City of Toronto's Seniors Services and Long-Term Care (SSLTC)
"This resource features promising practices to help move long-term care homes towards becoming safe, welcoming and inclusive spaces for the LGBTQI2S+ community.
Estimates point to roughly 10% of the general population being LGBTQI2S+, so we know that this community exists in care homes. Throughout their lives, many LGBTQI2S+ older adults in Canada have faced systemic discrimination and oppression based on their sexual and gender identities. This has been particularly prevalent within the health care system, which has resulted in a breakdown of trust in mainstream health care providers (Qmunity, n.d.).
This package was developed as a supplement to the presentation delivered at the AdvantAge Ontario Convention on "A Home for All: Making Long-Term Care Welcoming for LGBTQI2S+ People" in May 2019. This work stems from the Ontario CLRI's Supporting Diversity and Inclusion Advisory Group."

Source: Ontario Centres for Learning, Research & Innovation in Long-Term Care
"This Toolkit is intended to assist residences and organizations working with older adults to establish strategies for tackling bullying specifically between older people. Though existing best practices targeting bullying behaviours amongst other populations help to inform this Toolkit, the focus is on older adults, and as such, special consideration is given to this age group by utilizing the results from the SSHRC funded Seniors' Bullying in Ontario Project.
Though this Toolkit is intended for senior leadership and staff from seniors' residences and organizations, the more people engaged with this Toolkit the better. Involving clients early on encourages ownership of an anti-bullying initiative. That said, an individual or group will need to co-ordinate this initiative. Further, the Toolkit itself, contains modules with instructions for a facilitator to use in order to run the specific activities. "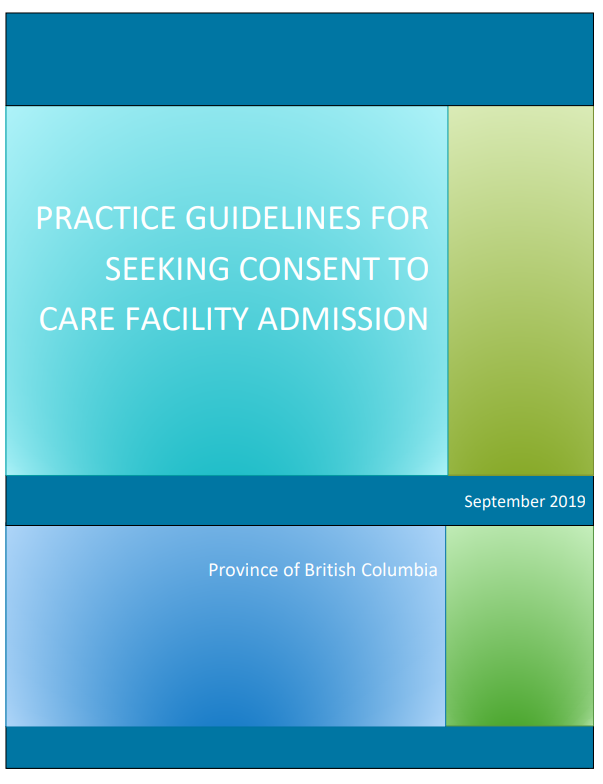 ''There are a number of laws in British Columbia that aim to assist and protect the rights of adults who may be incapable of making their own decisions and may be in need of support. The Health Care (Consent) and Care Facility (Admission) Act (HCCCFAA) is the law that governs both consent to health care and consent to facility admission.

In BC, capable adults have the right to consent, withhold consent, or revoke consent to healthcare. According to Part 2 of the HCCCFAA, health care providers must seek and obtain consent before providing treatment. Similarly, Part 3 of the HCCCFAA requires consent before an adult is admitted into a care facility. While many features of consent to facility admission resemble those for consent to health care, seeking consent to health care and seeking consent to facility admission are separate and distinct processes with their own specific legal requirements. This document is focused on consent to care facility admission.

Practice Guidelines for Seeking Consent to Care Facility Admission (the Guidelines) is based on the legal requirements of Part 3 of the HCCCFAA, and on best practices in BC and other jurisdictions. The Guidelines describe processes for seeking consent to admission to a care facility and for conducting an incapability assessment if an adult seems unable to give or refuse consent to admission to a care facility.

Source: Government of British Columbia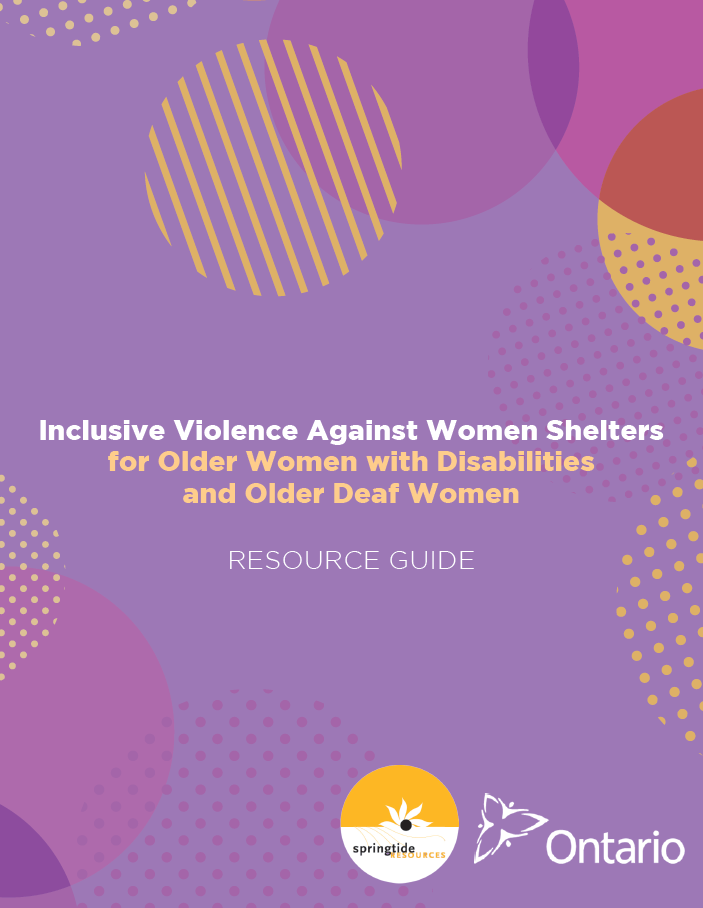 What is this guide?
This resource offers information to shelter workers to learn about the nature of violence and barriers older women with disabilities and older Deaf women experience in accessing shelter services, in order that shelters can proactively address these issues within the context of their service provision. We are defining'older' adults and/or seniors as age 65 years plus, since many government benefits begin at this age designation. A key component of this guide is for VAW shelters to learn about the Accessibility for Ontarians with Disabilities Act (AODA) in order to understand the minimum requirements that they are obligated to comply with under the law.
Why was this guide developed?
Research studies continue to confirm that women with disabilities are abused at a much higher rate than women without disabilities. Studies indicate that women with disabilities are sexually assaulted at a rate at least twice that of the general population of women. The rate for women with intellectual disabilities and Deaf women is even higher than other women with disabilities.Violence against older women is also pronounced with almost 63% of older women (per 100,000people) reporting having experienced family violence.For over a decade now, questions around access to women's shelters for women with disabilities and more recently, older women, have been flagged given such pronounced rates of violence. Lack of access to shelter services is going to become more of an issue as older women with disabilites and older Deaf women, like the general population, are experiencing an increased in life expectancy beyond what was typically mid-life.

Source: Ontario Association of Interval and Transition Houses