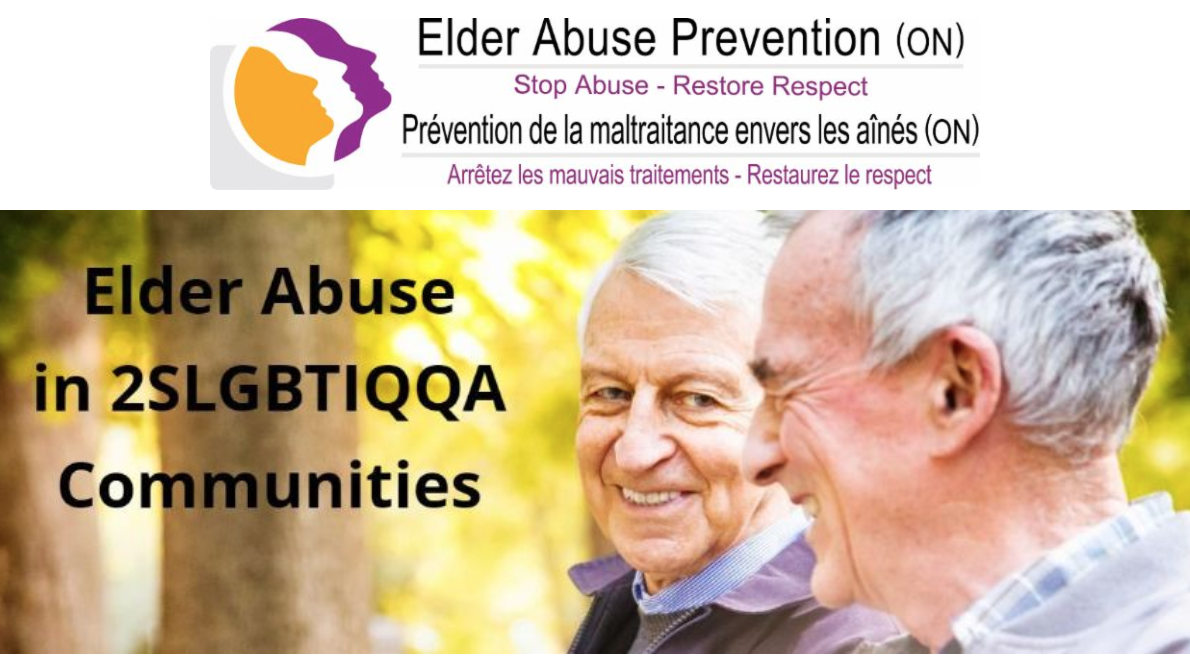 Presented by Elder Abuse Prevention Ontario, in partnership with the Senior Pride Network and the Fédération des aînés et des retraités francophones de l'Ontario (FARFO).
The speakers will share their lived experiences and expertise working with older adults in 2SLGBTIQQA communities to provide insights into how social isolation, ageism and discrimination impact the safety, health and well-being for older adults.

The webinars will increase your awareness of 2SLGBTIQQA older adults' issues and needs, and describe approaches for working with older adults to connect them to community services and promote positive aging in 2SLGBTIQQA communities.
Webinar 1 - Monday September 28, 2020, 11:00 am – 12:00 pm
Introducing 2SLGBTIQQA Communities: One Profile Among Many
Presented in English


Webinar 2 - Tuesday September 29, 2020, 11:00 am – 12:00 pm
Introducing 2SLGBTIQQA Communities: One Profile Among Many
Presented in French


Webinar 3 - Thursday October 1, 2020, 1:00 pm – 2:00 pm
International Day of Older Persons
Elder Abuse in 2SLGBTIQQA Communities: Understanding the Complexities and How to Respond
Presented in French


Webinar 4 - Friday October 2, 2020, 1:00 pm – 2:00 pm
Elder Abuse in 2SLGBTIQQA Communities: Understanding the Complexities and How to Respond
Presented in English